Company Profile

We, Flui-Tec Instruments & Controls, Bangalore, started in 1996, are a medium sized and fast growing company, and reckoned to be on of the leading Manufacturers, Exporters, Wholesalers / Distributors, Suppliers, Traders, involved in the field of Instrumentation and Process Automation Equipments.

We are officially representing:
M/S Nivelco Process Control Co. Ltd., Hungary for their full range of Level Instrumentation, Macnaugt Industries, NSW, Australia for Flow Meters & Dispensing Products, Swiss Flow B.P. Netherlands for Flow Sensors, AKO Electronica, Spain for their range of Level Products, Elster Meters, Germany for Water Meters, Dynameters for Non Contact Flow Meters, Aplisens, Poland for DP Transmitters, New Flow for Mass Flow Meters.

Our activities include:
Consultation:
This includes providing design and technical details for the instruments required in different fields of industrial automation application, including the BOQ.

Products:
Our manufacturing line includes Level Switches, Level Transmitters, Flow Meters, Pressure & DP Transmitters & Switches, Micro Processor based Process Indicators, Paddle Wheel Flow Meters, Magnetic Flow Meters, Non-Contact Flow Meters, Mass Flow Meters and Water Meters, Hot Water Meter for various purposes.

Marketing:
Our geographical area for marketing is the whole of South India and parts of Central India and North India. The Tamil Nadu & Andhra Pradesh region is being looked after by the branch office at Chennai. The Kerala and Karnataka region is covered by our Head Office at Bangalore.

Supply:
Here, we import the required instruments, from our above mentioned principal sources we supply, install and calibrate them. In some cases, we import only the sensors, which are interfaced and calibrated with locally manufactured electronics, which are then supplied and erected.

Service:
We also provide after sales service for the instruments supplied and erected.

Approvals:
The instruments we supply are approved by NTPC, BWSSB, ABB, BHEL-ISG, Vatec Wabag, BGR Energy, Fitchner Consultants, FCRI, Defence and many others.

Industries Covered:
Food Processing, Oil, Water Treatment, Process, Chemical, Dairy, Automobile, Pharmaceuticals, Defence and others.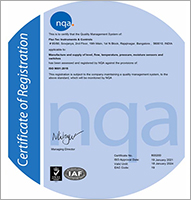 Read More